February 9, 2021
Michael Connealy Receives Crop Insurance Lifetime Achievement Award
We are thrilled to announce that the National Crop Insurance Services (NCIS) Board of Directors recognized one of our very own, Mike Connealy, as the recipient of the 2021 Crop Insurance Industry Lifetime Achievement Award today at their (virtual) Annual Meeting co-hosted by the American Association of Crop Insurance (AACI) and the Crop Insurance & Reinsurance Bureau (CIRB).
This award is designed to recognize outstanding leadership on behalf of the entire crop insurance industry by an individual who consistently demonstrates or demonstrated outstanding leadership by serving on an NCIS committee at any level. Mike's portfolio checks these boxes and many more, and we're grateful for his several, valuable contributions to the industry.
"Mike represents what Hudson Crop strives to emulate every day – the ease of doing business, above-and-beyond service, smart and sound growth and among all else, integrity," adds Dan Gasser, president of Hudson Crop Insurance Services. "He deserves this honor, and we are proud to have him as part of the Hudson family."
Congratulations, Mike!
Click to read the full press release issued by NCIS.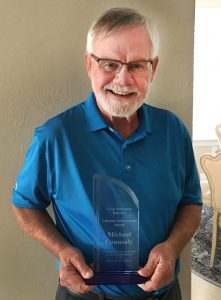 Hudson Insurance Company is an equal opportunity employer.