October 21, 2022
Our Livestock Team is MOO-ving the Service Needle
We are excited to announce that Felicia Andrews has joined our team as a Livestock Specialist. Welcome to the Hudson Family, Felicia!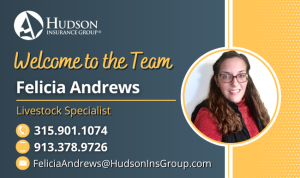 The advantages of partnering with the Hudson Livestock Team are undeniable for agencies and agents alike. No matter your agency size, we have the necessary resources that create a streamlined, successful experience. How do we do what we do? Technology, program expertise and years of experience working in the livestock industry. We tie everything together with maximum effort put forth on your behalf. The importance of providing agents with an exceptional experience is seemingly obvious, yet the extent to which agent support truly influences an agent's success is often overlooked…but not at Hudson. As they say, the proof is in the pudding, and the effectiveness of the after-hours livestock service we provide is apparent in our agents' numbers. Our team knows speed is critical. You are not interested in moving at a snail's pace while the competition moves forward. When you choose Hudson as your livestock partner, speed is a non-issue, due to the aforementioned technology and extensive program/industry knowledge. We approach every issue on a case-by-case basis, creating solutions for anything our agents encounter. Additionally, we are your eyes and ears for navigating the complexities of the RMA-administered programs. Hudson's livestock program has a near-zero error rate, and we maintain a close relationship with the RMA, making it easier to clear errors efficiently and accurately. Growth derives from collaboration and teamwork. Every Livestock Team member has the same goal, to grow the business by doing an exceptional job. Our chief priority is to do what we said we will in order to help the agent succeed in the Livestock insurance markets.
As Hudson continues to grow, our processes and systems are becoming more efficient by the day. The eHarvest® Livestock dashboard has been streamlined as a result of our unrelenting efforts to improve the user experience. Our quoting software provides a more efficient way to choose the best coverage in order to protect your farmer's/ranchers' investment in the event of a price drop before their animals go to market. We also offer eSignature, allowing producers to sign documents digitally for faster processing. Our excellent on-demand training allows agents to meet the RMA LRPA requirements for all livestock programs. The agricultural markets remain volatile, and our dedication to ongoing improvement of services and tools will prove vital in this fast-paced marketplace. When you partner with Hudson Livestock, you are backed by a team that knows what they are doing – plain and simple.