April 26, 2022
Congratulations, Hudson Crop Emerging Leaders!
Congratulations to our very own Clint Meek (Regional Sales Manager) and Justin White (Livestock Specialist) for graduating from the Crop Insurance and Reinsurance Bureau (CIRB) Emerging Leaders Program (ELP)!
Perry Harlow, Michael Torrey Associates LLC's Membership and Events Manager, presented the Class of 2022's "diplomas" following the CIRB Spring Fly-In and Policy Conference in Washington, D.C. earlier this month.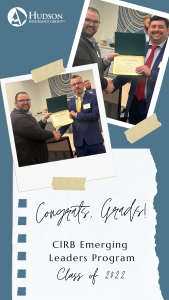 From left: Perry Harlow, Clint Meek, Justin White