December 31, 2020
And Justice for All
As we enter into a new year, please remember that the "And Justice For All" Civil Rights poster is to be prominently displayed in all offices who are recipients of federally-assisted programs, including AIPs and their contracted agencies.
This required poster should be displayed in the specific size of 11" wide x 17" high. This size requirement relates to a problem where the poster's text becomes small and almost unreadable when printed in a typical printer's print size of 8.5" x 11". The copy shown below is strictly a reference and not for print or display.
If you are a licensed Hudson Crop agent and need copies of this poster, please contact your Hudson Crop Regional Sales Manager or the Overland Park, KS office, and we will mail additional copies to you!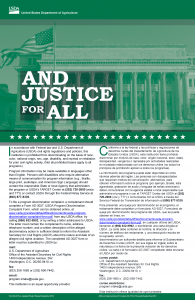 Hudson Insurance Company is an equal opportunity provider and employer.