April 23, 2021
Staying Sharp on Service
Our Compliance Managers and Training Staff (pictured) gathered in Overland Park, KS last week to hold the 2021 National Compliance School. Other team members joined virtually from afar to brush up on topics from RMA updates and requirements, to review processes and procedures, prevented planting, acceptable records, precision farming technologies and much more.
This annual training keeps our Compliance Team sharp and providing the top-notch service our agents and growers are accustomed to year-round!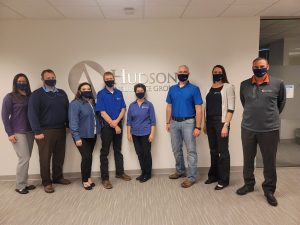 From Left: Kristin Jones (NW Regional Compliance Manager), Peter Williams (SE Regional Compliance Manager), Cozett Knight (National Reviewer), Jordan Snyder (NE Regional Compliance Manager), Theresa Young (Compliance Analyst & Coordinator), Andy Melton (National Compliance Manager), Jackie Schooler (National Reviewer) and Dennis Gore (SW Regional Compliance Manager)
Hudson Insurance Company is an equal opportunity provider and employer.